Jill Bryars's figures appear as if in the process of change from one form to another. As certain characteristics of the body forge connections leading us toward one single overriding identity, it is quickly undermined by other possibilities emerging on the periphery. The figures almost defy classification. Only the most essential features determine their genus, a predominant verticality and subtle markings suggesting humans, birds or bears, and the use of scale denoting mother and child. Beyond this, their properties migrate between definitions. The work makes tangible the activity of change, the sense that nothing is entirely fixed or bound but rather in constant flux, thoughts and events transferring, overlapping and transforming.
In the clay's retaining of marks from the process of construction a sense of historic and future forms is conveyed. These marks, to an extent, bear evidence of the growth and development of each form, moving from fainter, subtle marks to their more dominant features. This expression of activity allows the figures to move and forms to interact not in a literal direct manner but rather, as if oscillating. In the depiction of mother and child, this sense of fluctuating form is such, that the figures appear as a part of each other, almost in the process of dividing. In Crouching Bird Figure III, for example, a child appears to separate from its mother, and at the same time to dissolve, returning to her form and surface. Their shared skin, both part of the mother and this other, as yet, un-separated being, is reminiscent of the membrane that coats an early foetus; a surface both containing a discrete being and serving as a boundary through which it may be re-absorbed. It is this sense of activity and change within Bryars' work that has pertinence to fragmentation, as it contains the potential to create the body whole and at the same time render the body undone; not dismantled in the sense of shards or fractures but a reversal of its forming, a taking away from its previous, albeit immature, figuration.
Bryars' does not depict the mother figures as pregnant but the extension of her colour and texture to the smaller surrounding figures can be understood as symbolic of a family connection. The surface of Bird Figure Group is both shared by, and forges separation between, parent and child. It can be understood as depicting the child's tentative forming, their becoming conscious of identities. These smaller bodies have fewer markings than the mother form, suggesting the beginnings of what Azeau termed their 'psychic investment of self in skin'1, whereby skin/identity is not merely physical but a subjective consideration of 'feeling one owns it'2, of being in your own skin. This developing of self-hood is further indicated by their attachment to the main form, leaning inwards whilst the angle of their heads indicate a view beyond their composition and outside of their co-existence.
---
Notes
1. Anzieu, D., The Skin Ego: A Psychoanalytical Approach to Self, New Haven, Yale university Press, 1989, p. 13-14. back to text
2. Anzieu, D., The Skin Ego: A Psychoanalytical Approach to Self, New Haven, Yale university Press, 1989, p. 13-14. back to text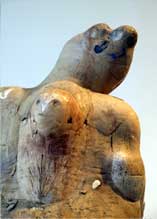 Detail of Crouching Bird Figure
Recommended Reading
Published on ICRC:
Alison Lochead:
watchers and Memory
David Cushway:
Presence and Absence
Charlotte Hodes:
The Fragmented Figure in the Work of Charlotte Hodes
Edith Garcia:
Things of Nature Unknown:
Animalistic Human